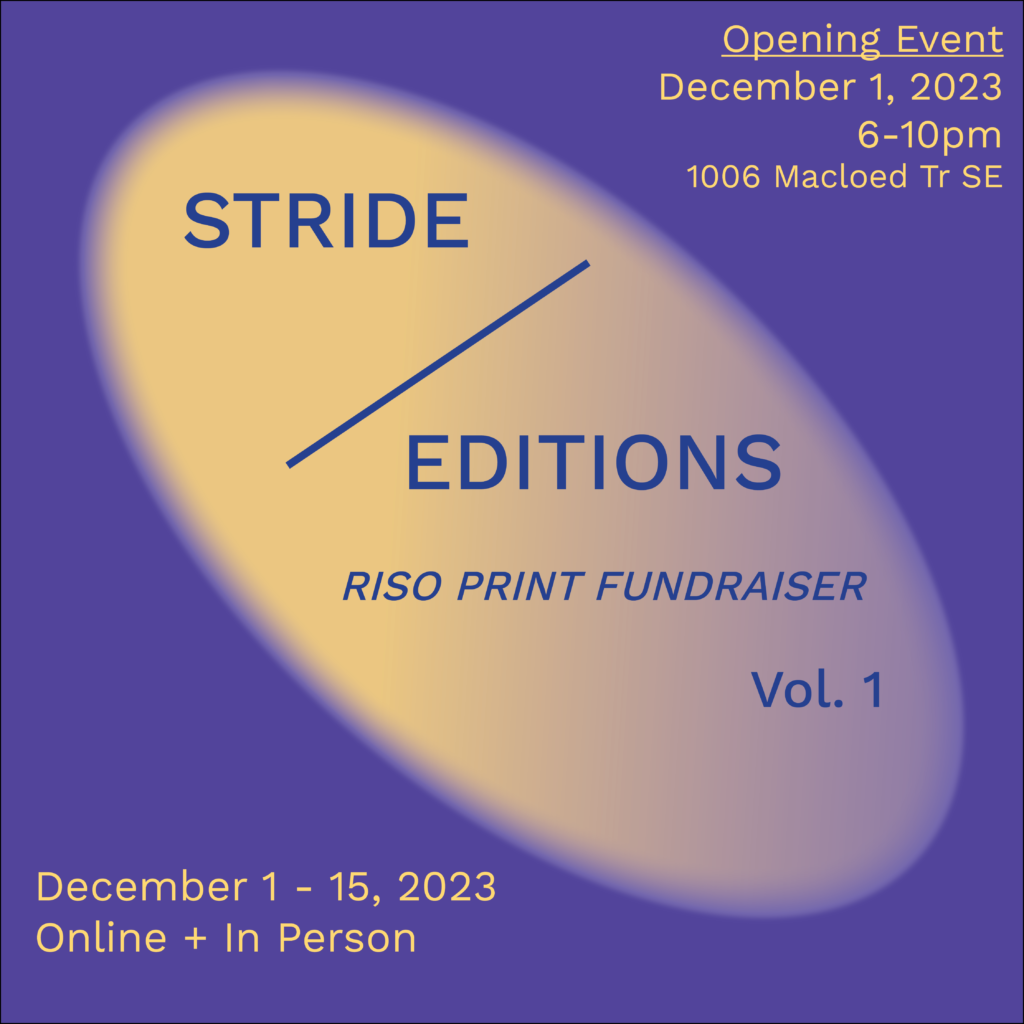 Stride Gallery Riso Print Fundraiser
December 1 – 15 2023
Opening Event Friday, December 1 @6PM-10PM
Stride Gallery
1006 Macleod Trail S.E.
Stride Gallery invites you to our 2023 fundraiser, Stride Editions, on December 1st 2023! We are showcasing risograph prints from over 20 local artists in Mohkinstsis (Calgary, AB). Please help us celebrate the emerging and established artists we've been in dialogue with over the past few years.
This fundraiser features editions of riso prints from $40 and upwards. Please join us on December 1st starting at 6 pm for the opening event of Stride Editions to buy prints, celebrate our wonderful artists and enjoy light refreshments! Artists will receive 50% of the sale of the prints unless they opted to donate 100% of the proceeds. The funds raised from this event will support Stride's ongoing programming and operations.
Prints will be on view until December 15th, but prints are limited editions of 10, so hurry on over! Online purchases will also be available.
Please note that Stride's single-occupancy washrooms are down narrow staircases on our basement level.
—
Stride Gallery is located in Mohkinstsis, the traditional territories of Treaty 7 people. Our activities take place on the land that historically and is currently stewarded and cared for by the Treaty 7 people, who are the Blackfoot Confederacy (comprising the Siksika, Piikani, and Kainai First Nations), Tsuut'ina First Nation, and the Iyarhe/Stoney Nakoda people comprising the Chiniki, Bearspaw, and Wesley First Nations. The City of Calgary is also home to Métis Nation Districts 5 and 6.